Hermès Crocodile and Alligator — What's the Difference?
At first glance, Hermès crocodile and alligator bags may look alike. However, there are distinct characteristics that make both these exotic skins some of the most coveted handbags in the luxury market.
Similarities Between Hermès Crocodile and Alligator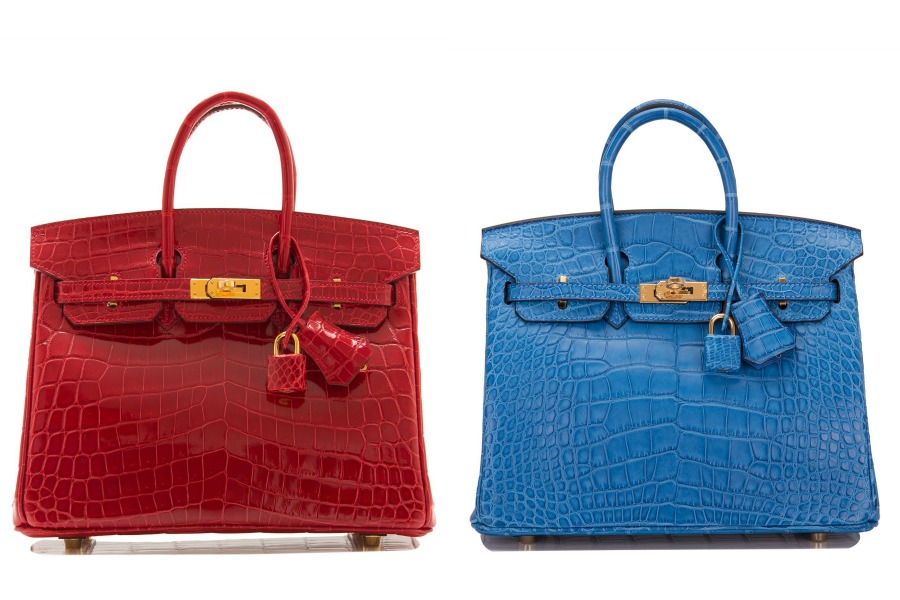 Hermès Braise Shiny Crocodile Niloticus Birkin 25cm  and Hermès Mykonos Matte Alligator Birkin 25cm
While sometimes their names are used interchangeably, crocodiles and alligators are not even related! Both crocodile and alligators are water reptiles with skin known for being resilient. With the proper care, you can expect to wear your exotic Hermès bag for many years to come.
Both skins have an umbilical scar: the line that runs down the middle of the bag. Alligator's scar is more prominent with a spiderweb-like pattern. Hermès expertly places this scar in the middle of the front of the handbags to showcase the authenticity of the skin and the craftsmanship of each bag.  Typically, the more symmetrical the scales, the more desirable the bag.
Both crocodile and alligator are used to make matte and shiny (lissé) handbags, although not all colors are available in both matte and shiny.  For example, Hermès braise and emerald exotics only come in lissé, while beton and gris perle only come in matte.
Differences Between Hermès Crocodile and Alligator
The first difference is where these skins are sourced from and where they dwell. While alligators live in freshwater, crocodiles dwell in saltwater. The Crocodile Niloticus skin, as the name suggests, is sourced from the Nile river. Crocodile Porosus is sourced from Asia or Australia.
The second difference is that crocodile skins have a small pore close to the edge of each of the scales, which is a remnant of a hair follicle.  Alligators have no pores.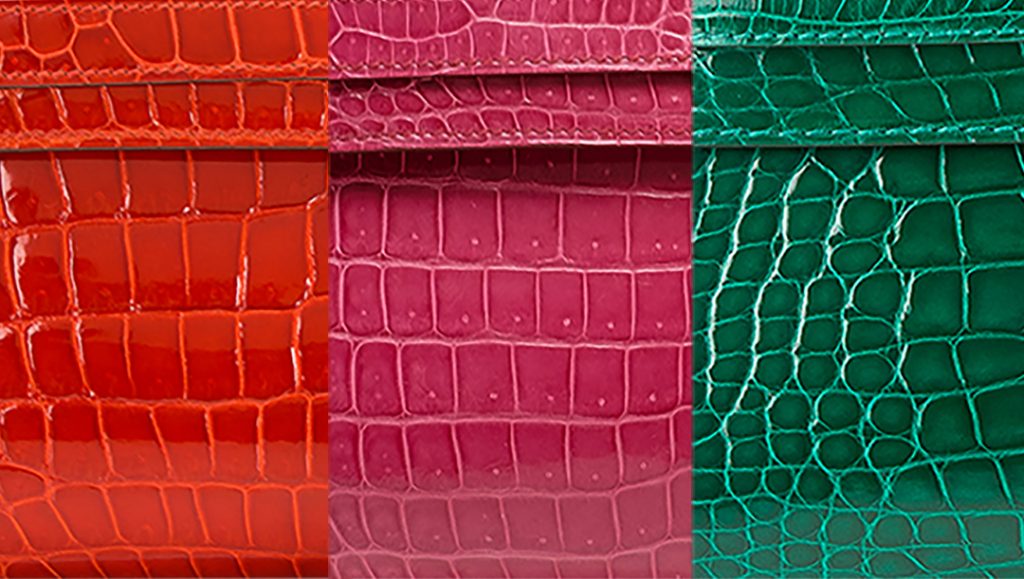 Niloticus Crocodile and Porosus Crocodile
As you can see in the picture below, Niloticus bags (left) typically have larger scales than Porosus bags (right), which are smaller and more defined.  Crocodiles are also larger than alligators, making it easier to craft larger bags in crocodile, such as a Birkin 35cm or 40cm.  Smaller bags are typically made of alligator.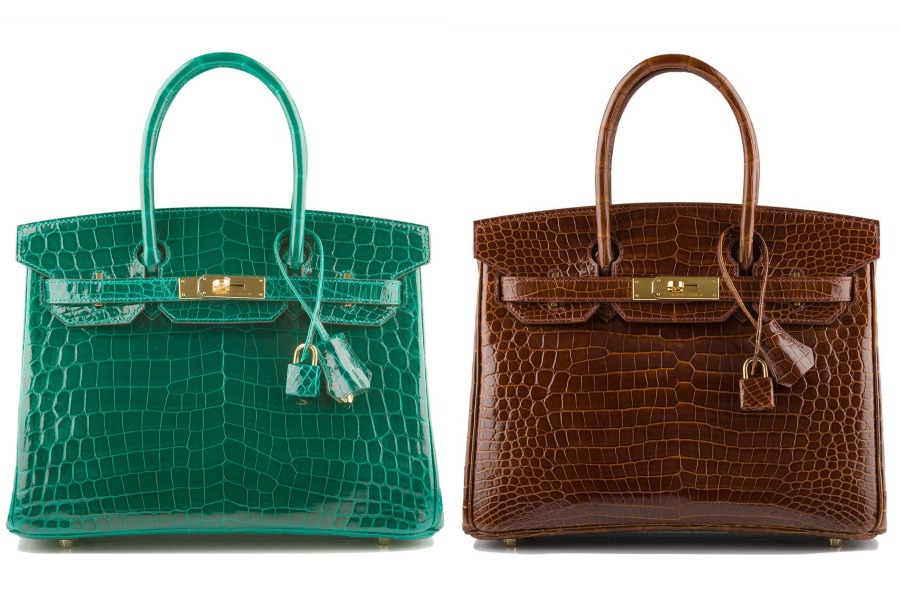 Hermès Emerald Shiny Niloticus Crocodile Bikin 30cm and Hermès Miel Shiny Porosus Crocodile Birkin 30cm
Niloticus Crocodile is marked with a "••" (two dots) and Porosus is immediately recognized by the "ˆ" (carat) mark.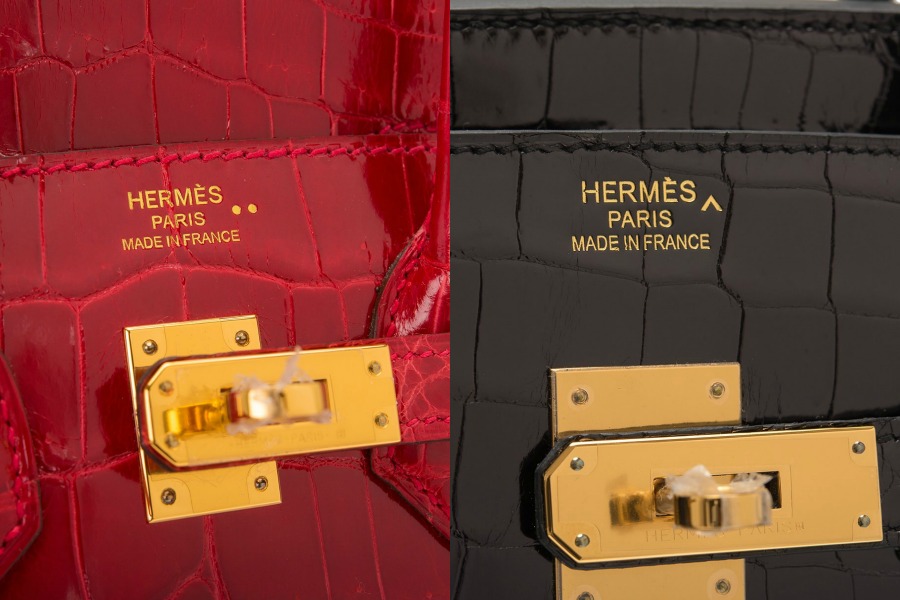 Alligator skin, or Alligator Mississippiensis, is sourced from the Mississippi river. Alligator skin has smaller, more symmetrical scales with a smoother feel than crocodile. The scales are larger in the middle and become smaller as they move outwards.
You can recognize an authentic Hermès alligator handbag by square sign next to the Hermès name.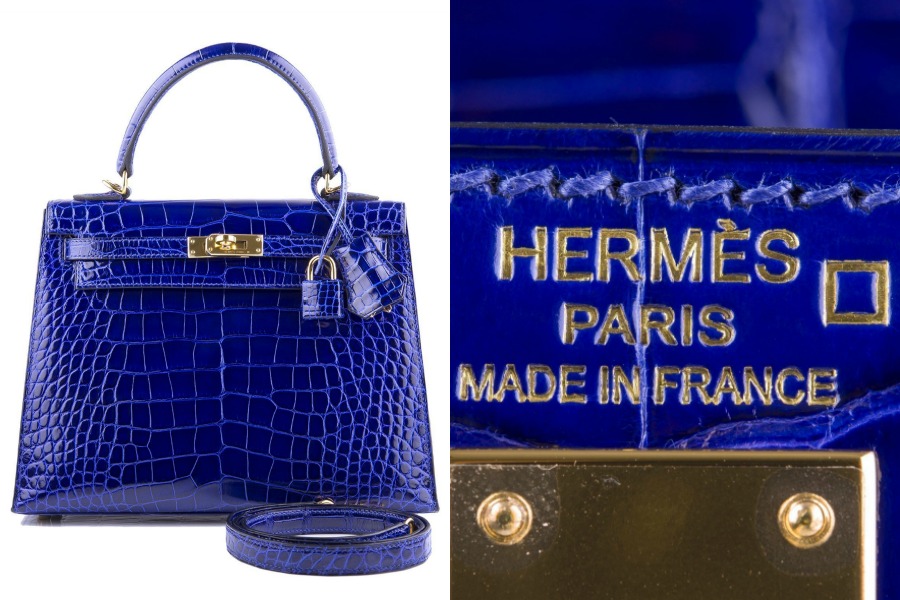 Hermès Blue Electric Shiny Alligator Kelly 25cm
Hermès Crocodile and Alligator Bag Availability
Of the three skins, bags made of Porosus skin are the most costly and harder to find.  Alligator is used increasingly by Hermès for small Birkin and Kelly bags, as well as pochettes and other small exotic bags and accessories, largely because it is easier for Hermès to acquire.  However, the price differentiation is narrowing.  While there has been an increase in the production of crocodile and alligator handbags, they are still much harder to get compared to leather bags.
Read: Your Complete Guide to Hermès Leathers and Skins
It is virtually impossible to be offered a crocodile or alligator handbag at an Hermès boutique without first spending six figures or more at the store. This is why collectors, as well as first time exotic skin buyers rely on trusted resellers, such as Madison Avenue Couture.  In addition to a solid inventory of  authentic, pristine and preloved exotic Hermès handbags, Madison Avenue Couture's concierge service can source a specific color or size exotic Hèrmes handbag.
Take a moment to browse our website, or make an appointment to come visit our New York City showroom.